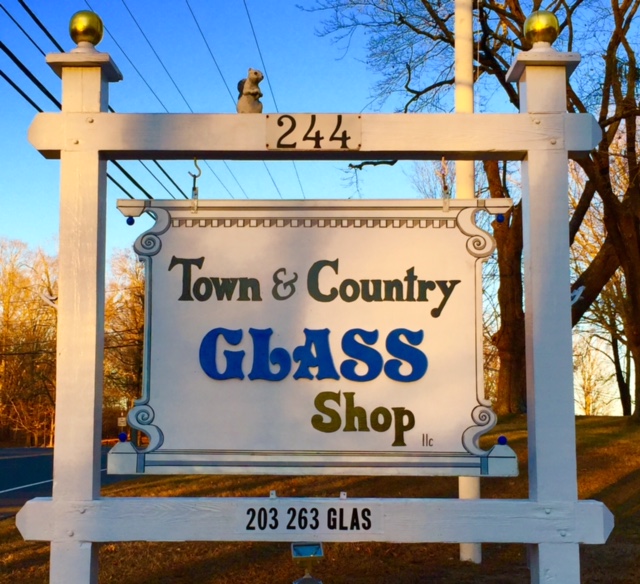 Town & Country GLASS Shop llc
CLEARLY YOUR HOME FOR EVERYTHING GLASS!!

244 Main Street North
Woodbury, CT 06798
203-263-GLAS (4527)
203-266-9301 fax
townandcountryglassshop.com
townandcountryglassshop@gmail.com


It all began in 1971 in Woodbury when Vincent J Mirabilio and his wife, Alice 'Honey' Mirabilio, opened and operated Town & Country Glass Co. in a small building at Middle Quarter Mall. After purchasing their new Woodbury home at
244 Main Street North in 1976, the business was moved to that location. They continued growing a quality business, with their sons David and Vinny working there periodically, until Vincent and Alice's retirement in 1987.

At that point, the eldest son, Vinny, took over the business later moving its location further down Main Street, Woodbury, under the name of Town & Country Glass LLC until closing the doors on June 17, 2015 to retire.

In December 2015, 6 months later, David V. Mirabilio (grandson and 3rd generation of Alice and the the late Vincent J Mirabilio), with the assistance of his father, David J Mirabilio, re-opened the glass shop at the 'ORIGINAL' site at 244 Main Street North, Woodbury (David J purchased the homestead from his parents in 1997), under the name of Town & Country Glass Shop llc.

During the summer months, you may run into Alice aka 'Honey' behind the desk in the office where she sat years ago! She would also like to wish her grandson, David, all the very best of luck, success, and prosperity in the glass business for many years to come, and to "thank him" for carrying on his grandfather's legacy! "Your grandfather would be very proud of you as I am."

So please stop by or call us for all your glass needs! We will provide you with all the same quality, courtesy, and service as it was right from the start! Family owned and operated for almost half a century, it doesn't get any better than that!!!